Kitzspitz – your hotel in Pillerseetal
Natural enjoyment
A nature hotel that is also a family hotel and a wellness and health hotel? Is there such a thing? Only either, or? No, our Kitzspitz is everything in one. With a little bit of consideration for one another and choosing the right holiday time - anything goes!
We have many guests who come without their children for once, for instance to enjoy a wellness holiday in spring or autumn, then they spend a holiday with the family in the summer or winter holidays in the Kitzspitz. Book Premium luxurious board first time round, then next time come for a health-oriented stay and a cleansing fast.
Just like the variety in the natural surroundings and in our Pillerseetal region, we love having a veritable smorgasbord of guests too. A retreat for nature lovers and gourmets, at any time of year!
Naturhotel Kitzspitz – the right choice in Pillerseetal
Being able to do everything – having to do nothing
A place for great ideas! Take time for yourself, the family or for good friends. Really unwind from the daily grind and re-energise with the power of the mountains. Take a deep breath.
Either enjoy the tranquillity of Pillerseetal, relax in our nature garden and watch the bees and butterflies on the flowers of the many herbs in the garden, or listen to the splash of the waterfall in the natural swimming pond - luxury for your soul.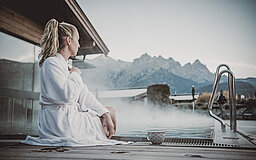 Nature & pleasure for body and soul
When the sun goes down forget any other thoughts; you don't have to think about anything. Be out of reach for once! Take holiday moments like this home with you to remind you to pause for thought in your daily life and perceive life in a more conscious, attentive manner.
Here with us you will find the perfect conditions to do your health some good while you are on holiday - purposefully choosing healthy food, exercise and relaxation!
Book your hotel in Pillerseetal
Enjoy relaxing days here with us
Does the guest card include cable car use in Pillerseetal as well as the price of the room?
No, unfortunately cable car use is not included in the guest card, but bus and train use in the Kitzbühel Alps is. An inclusive ticket for the cable cars can be purchased as an add-on. (Pillerseetal Card or the Kitzbühel Alps Summer Card)
When is the Reception in Kitzspitz, Hotel Kitzbühel and the surrounding area staffed?
Our Reception is staffed from 7.30 to 22.00. Should you be arriving after 22.00, then you must have your room card and use it to open the entrance doors.