Your host in the 4* Naturhotel Kitzspitz
A family-managed hotel in Tyrol
Kitzspitz is a real family run business. We, the Nothegger family and our staff, who will also regard as our hotel family and who share our passion for being hosts, welcome you to the Kitzspitz, your retreat for precious time with your partner, with the family, by yourself or with friends.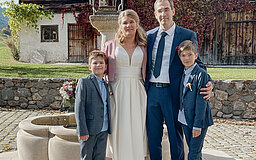 We, Maria and Alexander, the 2nd generation of Kitzspitz, work with a great deal of personal commitment, together with the 3rd generation, our sons Niklas and Maximilian and the entire team, to ensure our guests feel great and have a really enjoyable holiday.
The second hotel, next to the Strasserwirt, the oldest guesthouse in the district of Kitzbühel, Kitzspitz has been family-owned since 1982. With a great deal of passion, time and clear goals, we have created a popular wellness and family hotel in Pillerseetal for all generations of guests.
TEH – Traditional European Healing medicine in the Kitzspitz
Your host Maria is a keen 'herbal witch'
Many years ago, quite by chance (or maybe not), Maria came upon healing herbs, wild plants and 'weeds' (as many uninformed people might call them) and started training in TEH healing herbs. Since that time more herbs and plants were introduced in our large nature garden for use in healing and for meals as part of our natural cuisine, with 'weeds' and wild plants such as stinging nettle, ribwort, yarrow etc. tended and nurtured.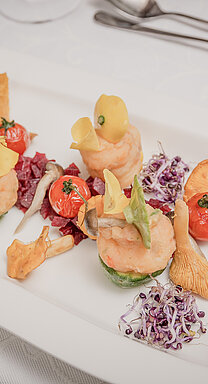 Cleansing fasts in the nature and wellness hotel Kitzspitz
A starting point to nutritional awareness
Out of your host Maria's enthusiasm and interest in herbs, herbalism, healthier nutrition, and creating a healthy lifestyle linked with nature, many years ago the Kitzspitz became a hotel specialising in cleansing fasts and health. With Ms Wacker, who developed cleansing fasts in hotels using the Wacker Method, we have an ideal partner for cleansing fasts and healthy nutrition. Since that time, cleansing fasts have become an important component in our nature hotel for those who are interested in wellness and health, and they are perfectly suited to us as a 'herbal' hotel.
We are an environmentally-aware, sustainable hotel, straightforward by conviction - since that is the only thing which makes sense! You enjoying and experiencing your holiday without a guilty conscience is a matter which is dear to our hearts. We show that a sustainable holiday doesn't mean forgoing luxury or comfort. Just enjoy a more 'conscious' holiday, in the middle of the Kitzbühel Alps!
If careful, considerate interaction with nature is as important to you as it is to us, then nature hotel & hotel spanning the generations - Kitzspitz - is just the place.
You too can help protect the environment when you come here for a holiday by
bringing your own bathing slippers and not using single use slippers (these are still available at Reception if you have forgotten your own)
When hiking, bring refillable bottles with you instead of using single use plastic bottles
Only take food from the buffet that you will be able to eat - preferably take less and go up a 2nd time, since we prefer food not to be thrown away
Do not throw your rubbish away in our lovely natural surroundings while you are out hiking
Only leave your towels on the floor to be taken away for cleaning if they are dirty
Do not leave water running unnecessarily and do not leave lights on when they are not needed
Out of consideration for the environment, only have your room cleaned every other day (this is not possible for the entire period, since for some guests the cleaning time might be too long on the day the are due to depart)
Environmentally-friendly travel
What we are doing in the Kitzspitz to ensure our natural surroundings are unspoilt and to ensure we are acting in a responsible manner for the future
Sustainable energy provision via biomass heating and photovoltaic facilities
Measures to save electricity and water
Avoiding creating rubbish, whereby small packaging is not used and rubbish is separated correctly
Avoidance of plastic disposable items
Environmentally-friendly cleaning products from Tyrol & chemical-free cleaning and disinfection using micro steam machines (Medeco)
Free collection from the train station (when you book direct and register in advance, for up to 5 people)
Free bus and train use in Pillerseetal/Kitzbühel Alps with the guest card
5 E-charging stations 11 KW, 1 x charge per stay free of charge
By purchasing regional, local and seasonal cycles and supporting fair trade, avoiding long transport routes, where possible
Produce from the region first, from Tyrol, from Austria and then from Europe
For instance: Bread from Bäckerei Maislinger in Fieberbrunn, yoghurt from farmers in Flecken, eggs from free-range hens at Muina Goggei in Fieberbrunn, organic cereal from Biologon in Hochfilzen, sausages from Metzgerei Horngacher in Fieberbrunn, only Austrian dairy produce, Austrian beef and pork, beer, lemonades and mineral water from Tyrol, organic shampoo by Pure Green from Tyrol and many more.
We could make a much longer list for you, but the best thing to do is see for yourself during a sustainable holiday here in Naturhotel Kitzspitz.
Just like in nature and our guests, we much prefer vibrant variety when it comes to our committed staff too. There are many different personalities, each of whom in their own way have a part to play in the success of our hotel, in the welcoming atmosphere and in providing a wonderful holiday for our guests. We help everyone and as a team we take care of the loveliest time in your year, your precious holiday time.
We are delighted to welcome guests who know that being looked after and cared for by our naturally talented staff is something to be appreciated, after all, no-one is obligated to take on a service sector position, it is something they decide to do. We want to pass on this sense of joy at what we do and also train up natural talent for the future. We ensure our staff are well taken care of, after all, they are hard to find. Many of our staff thank us by staying with us for several years.
They really appreciate the hotel and its guests, and hopefully this will remain so too. (We have lots of lovely regular guests who realise that being taken care of is something to be appreciated. Thanks to all of you!)
Kitzspitz is simply a hotel with special people and for special people.