Kitzspitz is located in the middle of lush greenery, surrounded by pastures and a dreamy view to the mountain panorama of the Lofer Mountains, the Buchensteinwand and the Kitzbüheler Horn in the Kitzbühel Alps. You will love the panorama & the unique location!
Nestling in the fantastic landscape of the wide and variety-packed Pillerseetal, is our nature and wellness hotel in the middle of the Kitzbühel Alps - in the holiday paradise of Tyrol. Whether in summer or in winter - our 4 star nature hotel in Austria combines nature and wellness in the loveliest way.
Time-out complete with panoramic views in a hotel in the Kitzbühel Alps
Energy-filled space with extensive views
Walk out on to the balcony, since all rooms have a balcony, breathe in the clear mountain air and enjoy the lovely views to the natural surroundings and the mountains. This is how your morning in Kitzspitz might begin! And the evening? Watch the sun set, the views from the Kitzspitz are perfect; sunshine right until the sun sets. This is what your evening in the Kitzspitz might be like.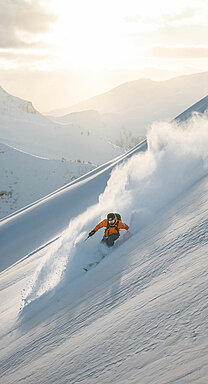 Ski-in -ski-out Hotel right on the ski piste & cross-country trail
Car-free winter holiday
Naturhotel Kitzspitz is situated right in the gourmet and family ski area of Buchensteinwand, in one of the most snow-assured skiing and cross-country areas in Tyrol. You don't just enjoy access to the ski area right on the hotel doorstep, but to an extensive cross-country network too.
With its central location in Pillerseetal, our hotel in the Kitzbühel Alps also provides the perfect starting point for excursions and excursion destinations in the area around Tyrol and in Salzburg.
Can you get to the Kitzspitz, hotel in Pillerseetal, without a car too?
Yes of course, as a sustainable hotel, when you choose environmentally-friendly rail travel, we collect you free of charge from Fieberbrunn rail station. (max. 4 people when you book direct and register in advance)
We are also happy to organise a taxi to collect you from Salzburg airport (the closest airport) from € 140.00 per route.
When is the Reception in Kitzspitz, Hotel Kitzbühel and the surrounding area staffed?
Our Reception is staffed from 7.30 to 22.00. Should you be arriving after 22.00, then you must have your room card and use it to open the entrance doors.